I Saw Satan Fall - September 2015
 "And He said to them, 'I saw Satan fall like lightning from heaven.'" Luke 10:18 (NKJV)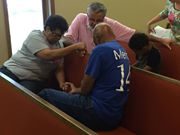 As I reflect on our first district-wide Ministry Sabbath this past Sabbath, the words of Jesus, spoken to the 70 disciples that He sent out as missionaries when they returned sharing what God had done, seem remarkably applicable to our experience. While I am not aware of any demon possessed people we met at the many different places we ministered, I am absolutely certain (from the many stories shared by people coming back from this experience) that Satan was defeated on many fronts. We saw Satan angry in many different ways, from the PA system that went out at the beginning of our preparatory church service, to the people who were upset when we showed up at their door. However, for all of his efforts he had remarkably little success. The failed PA system did not prevent us having a truly God-filled worship service, and the few people who did not want to speak with us were by far outweighed by the profoundly moving experiences that we had ministering to those who were grateful that we cared.
As the stories came in, from prayers for someone to pray with immediately answered, to nursing home residents who can't wait for us to come back again, to the 93 firefighters and EMS workers, 74 police officers, and 102 Sheriff's workers who were stunned to received personal gifts thanking them for their service and letting them know we would be praying for them, to the 196 homes that we personally delivered bread to in our neighborhood along with prayers with many people at their doors (many of them overwhelmed that any church people could actually care), to the personal and lovingly prepared cards and materials for inmates in prison, to tremendous opportunities and blessings found in interacting with the leaders of the Ashby House and Salina Rescue Mission, "I saw Satan fall like lightning from heaven." Already the fruits of our going out in Jesus' name are beginning to come in; by Sunday morning we had been contacted by an individual living close to our church who found the courage to reach out to us because we reached out to his family.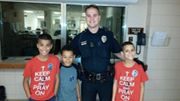 All of these experiences were tremendous blessings as I can hear Jesus declaring, "in as much as you did it to one of the least of these, my brethren, you did it to me." But in the aftermath of this profoundly moving day, I am moved to reflect on the road ahead. Many came to me after this experience and said "can't we do this every Sabbath?" This question is very relevant for us: if what we did on Ministry Sabbath only happens every month with five Sabbaths then this experience will have no transformational impact on who I am as a follower of Christ. If my Christian witness is something that I can put on for one day a quarter and then take off for the other 90 days then how much good is it? In this Ministry Sabbath, I see the pleading call of Jesus to us to be 365 days a year witnesses for Him. The power that accompanied our witness on Sabbath is not lacking on the other days though our activity may take many different forms. Let us today make the commitment that we will be the hands and feet of Jesus whenever, and wherever He happens to put us on a day to day basis. Oh to see the power of Jesus working every day through us! The beautiful thing is that if we surrender our lives to Him to be used in the way that He sees fit every day, we can!